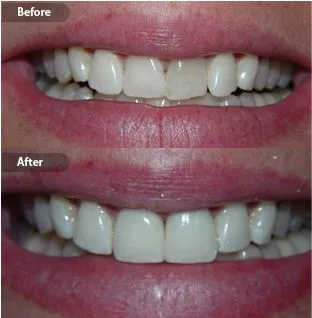 Case 1
BEFORE
This patient noticed that her teeth were too dark and one front tooth was darker than the others. That tooth was also placed slightly behind the other teeth. The one tooth had previous root canal treatment which is known to cause tooth discoloration.
AFTER
A Zoom in office treatment was performed on the patient along with a take home bleaching kit for approximately three weeks. Patient then returned to our office approximately one month after the last application for 2 all Porcelain Empress Crowns of her two Central Incisors.
---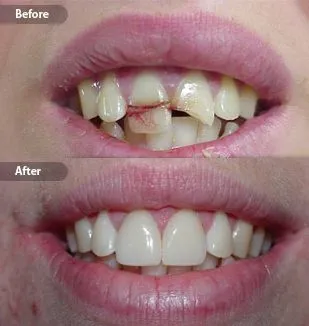 Case 2
BEFORE
This patient presented to our office as an after hour emergency. After fainting she noted that both of her front teeth were completely damaged.
AFTER
What was recommended during the appointment was to perform two root canals of her front teeth and a core build up. Approximately a month later, the patient returned to our office for two all Porcelain Empress Crowns to the two damaged teeth.
---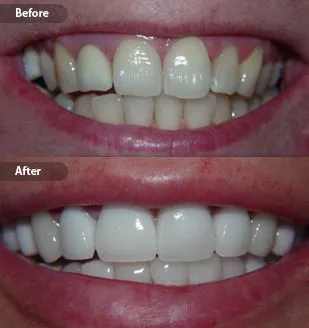 Case 3
BEFORE
This young patient presented to our office complaining that she is unhappy with her smile, color and shape of her teeth. The color she wanted was bleach white.
AFTER
Patient had ten teeth on the upper arch and eight teeth on the lower arch of all Porcelain Crowns and Porcelain Veneers performed.
---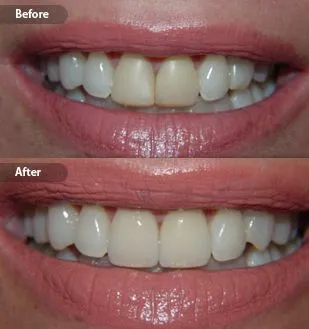 Case 4
BEFORE
This patient was unhappy with her front two teeth that had fillings there for greater than 10 years. What was recommended to the patient was Take Home Bleaching upper and lower trays and two Porcelain Empress Veneers.
AFTER
Upper and Lower bleaching of her arches were performed for approximately one month. After another month of non-bleaching, the two central incisors were placed with two Porcelain Empress Veneers.
---