Kissimmee & Hunters Creek, FL Dental Implants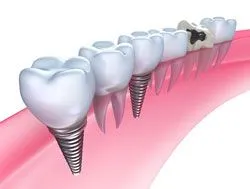 When you're a kid, losing a tooth is exciting and is a rite of passage. However, when you're an adult, and you lose a tooth, it's much more serious because there's no tooth growing in behind it. There are different options you have when it comes to replacing a missing tooth and completing your smile. Dental implants are long-lasting and durable and can give you a natural-looking smile that you'll be proud and excited to show off again!

What Are Dental Implants?
Dental implants consist of a titanium post and a dental crown. The titanium post is first inserted and implanted into the gums, fusing to the jawbone. This helps anchor the tooth and keeps it permanent. This also helps to keep your jawbone intact after losing a tooth and can help prevent facial sagging from happening in the future.

Once the gums have healed, your implant can be topped with a dental crown. This crown is custom-made to match the rest of your teeth in shape, size, and color. This tooth will be nearly indistinguishable from the rest of your smile, and no one will ever be able to tell you were missing a tooth to begin with.

Dental implants are also strong enough to withstand the pressure put against your normal teeth when you bite and chew, making your smile fully functional again. You can enjoy your favorite crunchy foods again without the fear of having to avoid part of your smile due to a missing tooth.

Contact Your Dentist Today!
Give yourself a completed smile once again! Replace a missing tooth with a dental implant to fill in the gaps and start feeling comfortable with your smile again! Contact your dentist at Central Florida Cosmetic & Family Dentistry today to learn more about dental implants at (407) 483-9990!