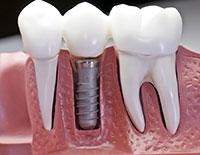 No matter the reason for missing teeth,
dental implants
can help restore your smile. Dental implants are proven to be an ideal treatment to restoring the look and feel of a natural beautiful smile.  Dental implants have been scientifically tested and used for decades.  For over 30 years now, it has been possible to replace tooth roots almost entirely with dental implants.  Individual tooth replacement, replacement of more than one tooth and for the replacement of all teeth, dental implants appear to be the best choice in restoring function to your mouth.
Dr. Mansour Shares with Patients in Kissimmee the Dental Implant Procedure
Before dental implants are placed, your bone density needs to be assessed to ensure that you have sufficient quality and quantity of bone tissue available where the implant will be placed.  If there is insufficient bone or significant bone loss has occurred due to periodontal disease, then you may need bone grafting before the implant can be surgically inserted.  In some cases, mini implants can be used if the bone density is too low for larger implants.
Once you have been assessed and the treatment is planned and explained, the appropriate implant system and size of the implant will be selected and surgically placed.  Local anesthesia is often used when placing an implant, but if you are anxious, you may choose to be sedated during your treatment instead.  It is up to Dr. Adel Mansour, our Kissimmee dentist, to decide what the best solution is. The process for dental implants can take up to nine months to complete, but each patient heals differently so times will vary. 
Why Dental Implants?
Both esthetic and functional, dental implants are artificial tooth replacements that allow you to, talk, laugh and eat without difficulties.  Some reasons for choosing dental implants for your smile restoration include:
Improved appearance

Bone preservation

Tooth preservation

Proven quality

Experience a tight, secure fit

Can eliminate the discomfort often associated with ill-fitting dentures
Implants are so well designed that they maintain the ability to mimic the look and feel of natural teeth, making dental implants the ideal solution to replacing missing teeth. 
When your teeth are healthy, the root of your tooth transmits chewing forces to the jawbones, allowing your mouth to perform basic functions of chewing and eating without discomfort.  The tooth remains stable and generally unchanged while chewing.  If one or more teeth are missing, these forces no longer are effective, potentially causing the jawbone to begin disintegrating. 
Dental implants may help prevent this gradual bone deterioration, since the implant replaces the natural tooth root.  Unlike dental bridges, implants do not affect neighboring healthy teeth.  Instead, the dental implant replaces the missing tooth root and neighboring teeth remain completely intact. 
Implants are not for everyone, but with proper consultation with Dr. Adel Mansour, our dentist in Kissimmee, you can be assessed for the best solution to restoring your smile.  Rest assured that tooth loss doesn't have to be permanent and your smile can be restored with the help of Dr. Mansour and dental implants in Kissimmee and surrounding areas.